I'm so not procrastinating on the next DtN comic.
While searching through my merch boxes today, I happened upon the jewel of my plush collection looking very sad in its plastic bag. Up until now, I'd not even removed it from its bag nor taken any proper photos of it. Seemed a shame for something as special as this particular plush, so I've finally got around to releasing it from its plastic prison and gave it a luxury photoshoot while I was at it. What a lucky plushie. You guys are in for a real treat this article.
Introducing…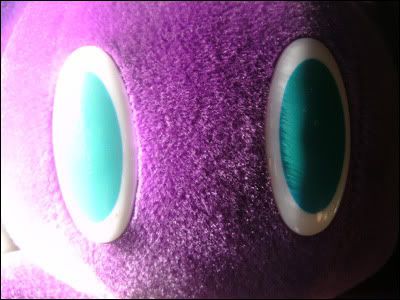 Here's looking at you, buddy.
The NiGHTS Chao plush. One of the most elusive pieces of Sonic plush merchandise there is. Few know it exists, and even fewer actually own one. Quite a shame as this is one of the nicest Sonic plush available, with stunning attention to detail and high quality materials… and those huge "Take me home!" eyes.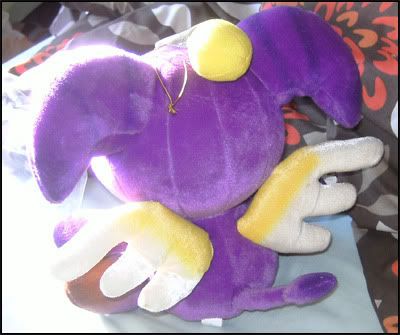 What a narcissist.
The details are incredible on this plush, right down to its little devil tail (yes, the NiGHTS Chao -did- have one of these in game). The horns have lightly airbrushed stripes on them, and the tummy and paws have yellow airbrushed details. This gives a much softer look than sewing two differently coloured pieces of material together, as is commonly seen in the paw tips of the fake neutral Chao. Just look at those gorgeous wings as well! More airbrushed details and a super soft, shimmery material. No little quirk was too much for SEGA to reproduce in this plush.
So, you all cry… Where on earth does this Chao fit into the plush sets released? It may surprise you to learn that this little guy is from the Sonic Adventure plush set released in 1999, and was available only in UFO catchers in Japan (see below for the tag). This set is a little strange in that some of them (Sonic, Tails, Knuckles, neutral Chao, Big) were later given a Western release and were available to buy on Sega.com for a limited time. Another oddity is that these five never had a paper tag for the Western release and just came in a sealed bag. The four that were not available to the West are all much rarer and fetch much higher prices. These four are, in order of rarity and demand, Eggman, Amy, Gamma and NiGHTS Chao.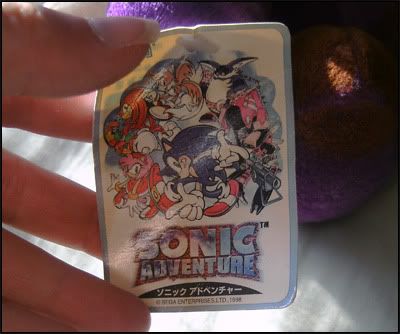 NiGHTS Chao was adamant he was not late to the photoshoot for the tag… Everyone else was just early.
So just how rare is rare? As far as I can confirm, only three have come up for sale since October 2005. None of these were bought on Ebay so it is very difficult to accurately place a Western-appropriate value as Japanese plush always fetch much more on Ebay than on YJA, and sometimes fetch even more on Ebay than on Animemate. The other thing with this plush is it appeals to two manic groups of collectors… The Sonic collectors and the NiGHTS collectors. This is what gives it the nose ahead in rarity and price against Gamma. The NiGHTS collectors in particular are very aggressive bidders and are very used to paying hundreds for their acquisitions. If one of these came up on Ebay anytime soon, it'd be one hell of a bidwar!
One thing is for sure… This gorgeous little guy completely deserves to be the centrepiece of any plush haul. Hope you've enjoyed learning more about this elusive cuddly creature!
Alex373

May 25, 2010 at 5:32 am
Oh wow this is the best merch I've ever seen!!! NiGHTS chao is so awesome I gotta have one!
Jake

April 29, 2012 at 10:01 pm
Regardless of how high people think they can sell plush dolls for, anyone can learn how to make one themselves.
I'd never pay over 100 dollars for a plush doll when I could get the materials to make a close replica for so much less.