A few of you probably wondered what happened to the promised DtN update on the 4th February. Well… You could say I've been busy. Very busy. There's a lot I've got in store for you guys, and not just over here on EC. Keep your eyes peeled for updates very, very soon!
Onto the DtN news… I am happy to finally reveal the title and cover image for the new Dream to Nightmare comic.  The new saga is Urtheart's Dream – Project T-84575. What does this mean? Who is that in the background? Where is Dread? Why is there no Blake porn on this front cover? Why does Bman look so evil? And who is that new (and oh so sexual) character below him? All will be revealed… When I get my arse into gear and finish the first comic. You won't want to miss it!
DISCLAIMER: The lateness of this update has nothing at all to do with Zombies mode on Call of Duty.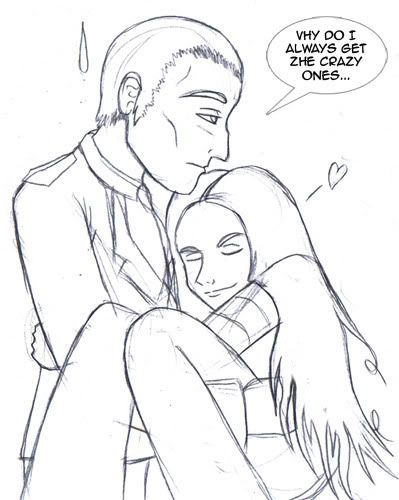 OKAY, SO WHAT IF IT DOES? Leave me alone. D:
| | | |
| --- | --- | --- |
| | | February 18, 2011 at 3:03 am |
That is one awesome-looking picture. Definitely looks like a bit of a more serious vibe than the first arc, but I'm sure there's laughs to be had anyway. Can't wait to see where this arc takes us!
| | | |
| --- | --- | --- |
| | | February 18, 2011 at 3:41 am |
DISCLAIMER: The previous comment was left before the current disclaimer was edited in.
And yes, that picture pretty much sums up the entire reason. XD
T.A Black

February 18, 2011 at 8:35 am
Really looks like another awesome set of comics are gonna be on its way. Really looking forward to it, regardless of when it finally appears.
And yes – seconded by Spin. Wonder if this'll play into DtN in some way…
Ram The Dragon

February 18, 2011 at 2:11 pm
YES WHY IS THERE NO BLAKE PORN I WONDER >:C
AUGH RICHTOFEN RUN RUN FOR YOUR LIFE MAN
Vger

February 18, 2011 at 3:25 pm
Looking very nice, looking forward to seeing it.
What? Just because I run the place doesn't mean I get to see stuff in advance.
Casanova

February 19, 2011 at 2:47 am
"Who will buy my toot!"
comiccommenter

February 26, 2011 at 5:12 pm
EEEEEE, It's finally here! : D *doing grazy fangirl dance*
…
But in all seriousness why is there no Blake Draco porn on the cover D : <?
…
Though I do like the smexy looking one in the left corner to. : 3
Zomg, I just had the greatest idea for the next cover; Blake Draco x Mysterious smexy guy porn! : D *SHOT!* …I'm okay.
RSS feed for comments on this post.